Cleft-Back Antelope
Comments

0
398pages on
this wiki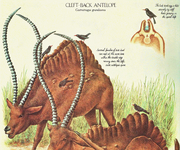 A primitive looking antelope from Lemuria.It has two ridges on its back,leaving a furrow around its spine.It is covered with warts which attract flies - and a species of tickbird.This tick bird feasts on these flies and it makes its nest in the furrow of the antelope's back.
Common Cleft-Back Antelope,a common type of Cleft-Back Antelopes.
African Cleft-Back Antelope,same as common Cleft-Back,but it has lighter color and can feast on small rodents and worms.Lives in Africa.
Springcleft,its is also called Nursey Cleft-Back,is an springbok-like speedy cleft-back.It also has a small udder in her furrow and with udder feeds tick bird's babies.