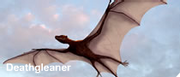 Deathgleaners are giant predatory future bats that live in the North American desert in Animal Planet's series The Future is Wild. They probably evolved from false vampire bats. They have a wingspan over four feet (1.2 meters). Their desert home is frigid and thus deathgleangers are diurnal hunters. During the day blood is warmed in the wings and circulated to warm the body through a counter current in its circulatory system.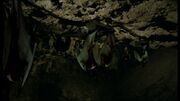 Deathgleaners have similarities and differences to the other bats including torpor and sharing surplus.
Spinks
and occasionally
desert rattleback
 make up their diet. The deathgleaner hunts spinks and young desert rattlebacks, plus it eats carrion such as that produced by the rottening carcasses of adult rattlebacks. Flocks of deathgleaners follow rattlebacks. When a desert rattleback uncovers tubers for food, it also uncovers spinks. The deathgleaners then attack and eat the spinks. To promote survival, the deathgleaners share their food with roostmates. Male and females mate around the warmest of times of the year, usually around July and August. The male will give the female a spink. If she accepts the spink, she will mate. When they mate they fly high over the desert in constant freefall. When the pups are born they stay at the roost until three months old. At this time they can cling to the belly of their mother.