Desert Leaper
Comments

2
500pages on
this wiki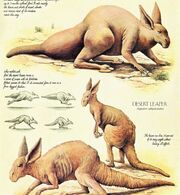 After some 50 million years of evolution these features have all developed again in one animal - the desert leaper, 
Aquator adepsicautus
. The leaper is descended from the rodents, possibly one of the jerboas or sand rats, and has grown large - adult males may reach more than 3 metres from nose to tail. The tail is the most unusual feature of this animal; it is here that all its subcutaneous fat is stored. The fat is not a water store, but a store of food that enables the leaper to go for long periods without eating when food is unavailable. When the fat store is full the animal's body is well balanced and it can leap quickly along on its hind limbs. In this condition it can undertake journeys of 100 kilometres or more between waterholes and oases. It has broad, horny pads on the toes of its hind feet which prevent it from sinking into the sand and give it a good grip on naked rock.