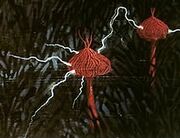 The
Electrophyte
is a red, plains-dwelling,
mushroom
-like plant from
Darwin IV
with the ability to generate electricity.
Colonies of electrophytes open up with a flickering display of miniature lightning bolts. This in turn triggers neighboring stands of the red, stalky plants to sympathetically fire their charges, which creates a vivid chain reaction across the horizon. These plants are endowed with the unique ability to protect themselves with strong electrical discharges, often of sufficient intensity to kill small animals, like jetdarters. They can also become agitated when they sense a massive beast approaching.
Ad blocker interference detected!
Wikia is a free-to-use site that makes money from advertising. We have a modified experience for viewers using ad blockers

Wikia is not accessible if you've made further modifications. Remove the custom ad blocker rule(s) and the page will load as expected.