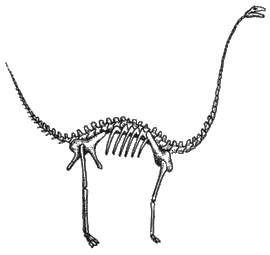 Extinct forms of swift-footed titanosaur sauropods once thrived in South America before the Quaternary, from The New Dinosaurs: An Alternative Evolution.
Isolated from the influences of migration from other continents, the sauropods of the South American continent evolved in their own way to cope with such changing conditions as the spread of the grasslands in the Oligocene-Miocene epochs. During the Paleogene and Neogene periods many strange grassland-dwelling sauropods developed to live in the newly developed Pampas, including a number of long-legged, running forms. These were very vulnerable to the swift-footed carnivorous non-avian theropods that spread across the continent about four million years ago in the Pliocene epoch, when the present Panama Isthmus land bridge was established to the North American continent to the north, resulting in the Great American Interchange. The long-legged sauropods were fast runners, but they were nowhere near as fast as the meat-eaters and were eventually made extinct.
The sauropods that survived did so because they evolved defensive strategies, such as with the turtosaur and the lumber.
Although a name was never used, the proposed name is Velocibrontus australis.
Ad blocker interference detected!
Wikia is a free-to-use site that makes money from advertising. We have a modified experience for viewers using ad blockers

Wikia is not accessible if you've made further modifications. Remove the custom ad blocker rule(s) and the page will load as expected.