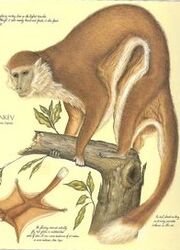 .
The flunkey, or gliding monkey, Alesimia lapsus, is a very small marmoset-like cercopithecine Old World monkey, descended from the vervet monkey, from the treetop canopies of the tropical forests in Africa. It has become adapted to a gliding mode of locomotion.
In this development it parallels the evolution of many other mammals that have evolved gliding webs of skin, or patagia, from folds of skin between the limbs and tail. To support the patagia and deal with the stresses involved in flight the backbone and the limb bones have become remarkably strong for an animal of this size. Steered by its rudder-like tail the flunkey makes great gliding leaps between the crowns of the highest trees to feed on fruit and termites.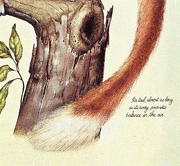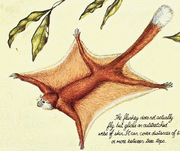 Ad blocker interference detected!
Wikia is a free-to-use site that makes money from advertising. We have a modified experience for viewers using ad blockers

Wikia is not accessible if you've made further modifications. Remove the custom ad blocker rule(s) and the page will load as expected.