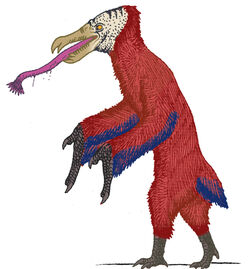 In the
Primeval
novel
Shadow of the Jaguar
, a flightless, carnivorous neognath bird with a hooked beak from the future, theorized to be the future evolution of certain birds of prey by Nick Cutter, is found to have gone through an anomly to the Pliocene and is mind-controlling a pack of
Thylacosmilus
with pheromones.
It has a certain resemblance to the Incan god, Pacha Kamaq. The team track it down to its lair in the ruins of an Incan temple in the Peruvian jungle. After they disrupt its control over the Thylacosmilus, the creature retreats through the anomaly with them seconds before it closes. Cutter later theorizes to James Peregrine Lester the creature may have been seen later in history by the Incas and incorporated into their mythology. The creature had several unusual abilities, such as the ability to control other creatures through the use of pheromones (like a queen bee controls a beehive), and a long, wormlike tongue covered in small rasping teeth, acting like a proboscis, that can burrow into flesh.
The Future Bird produces pheromones that allow it to control other, weaker-minded creatures. More intelligent animals with willpower do not appear to be susceptible to the Future Bird's pheromones, although they can still smell them. The bird's pheromones are said to often smell to humans like burning cookie dough.
Ad blocker interference detected!
Wikia is a free-to-use site that makes money from advertising. We have a modified experience for viewers using ad blockers

Wikia is not accessible if you've made further modifications. Remove the custom ad blocker rule(s) and the page will load as expected.