The
Gloomworm
is a typical species of
surviving bristle worm
from the subterranean reservoirs of the
Central Desert
in 200 million AD. It is in the family Bacteriophagidae.
The green bacterial meadows of the underground pools are grazed by the gloomworm. The gloomworm lives above the water level where it can avoid larger predators.
Gloomworms that come too close to the surface of the water are the staple food source of the
slickribbon
.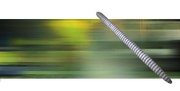 Ad blocker interference detected!
Wikia is a free-to-use site that makes money from advertising. We have a modified experience for viewers using ad blockers

Wikia is not accessible if you've made further modifications. Remove the custom ad blocker rule(s) and the page will load as expected.