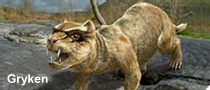 The Gryken is a descendant of the pine marten that lives in Grykes and crevices - hence its name. It is shaped like a dachshund dog - low-slung and somewhat heavyset. Like its distant relative the Snowstalker, the Gryken has elongated canine teeth with which it kills its prey: the Cryptile lizards and the Scrofa piglets.
Gryken lives on the various islands in the dried-up Mediterranean sea, 5 million years in the future.
The gryken is a small predatory mammal, roughly 3 feet (0.91 m) long and is descended from pine martens and lives on the rocky plateaus on the Mediterranean Basin. It is related to the larger Snowstalker, which lives in the Arctic north. Since its ancestors were tree-dwellers, the change to terrestrial life took place during the colder climate of the ice age at this time. A similar evolution occurred in the past, producing prairie dogs and baboons. In the Gryken, its tail became shorter and its feet longer. Overall its build is much like that of a dachshund, with an elongated body and short legs. This body design is perfect for wriggling through the deep cracks in the rocky surface, or Grykes. However it can only accomplish short bursts of speed for catching prey, such as Cryptiles and baby scrofas. To make up for this, the Gryken evolved sharp canine teeth for disembowelling its prey.
The Gryken has probably evolved to take the place of the lynx or another large predator that was around during the time when humans still walked the earth. In fact, it was probably humans that caused the extinction of the dominant predator in that area. This would have left an ecological niche that would need to be filled quickly so as to keep the population of herbivores in check. The gryken was in the best position to fill this niche because it was the only predator left in the area.
During the summer Grykens begin to find suited mates. The male will approach a female and they will duel. This is to show if the male is worthy enough to protect the young. After the fight the pair will retreat to a secluded gryke and mate. When the cubs are born the parents take turns watching the young and getting food. The parent will feed their babies regurgitated food like present day dogs and wolves do. When they are seventeen months old they are taught to fend for themselves.