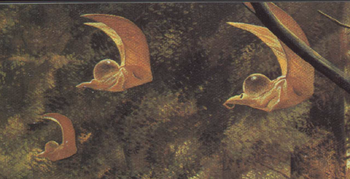 The
Hook-tailed Flyer
is a fast-moving flyer from the
plains
and
Pocket Forests
of
Darwin IV
.
When they halt their flying, hook-tails drop to plaque-bark tree branches, hook them, and dangle inverted, folding their leathery wings around themselves.
Sometimes, a pinging flight of hook-tails rises noisily from the trees and skims away toward the open grasslands and travels far.
Ad blocker interference detected!
Wikia is a free-to-use site that makes money from advertising. We have a modified experience for viewers using ad blockers

Wikia is not accessible if you've made further modifications. Remove the custom ad blocker rule(s) and the page will load as expected.