The meaching, Nixocricetus lemmomorphus, is a woodchuck-like arvicoline cricetid, descended from the lemming, living in the Northern Hemisphere tundra, from After Man: A Zoology of the Future.
As the constantly frozen ground of the tundra makes digging through the earth impossible, all small burrowing rodents found in the tundra are snow-tunnellers. One tunneller in particular, the meaching, similar to the ancient lemming from which it may be descended, has a very considerable effect on the ecology of the area.
A colony of meachings may be started by as few as three or four individuals. They breed profusely, and as their numbers grow they build a fortress of matted vegetable material to protect them from the frosts and snows. The interior of the fortress is very complex and consists of a network of passages and tiny chambers (one for each individual).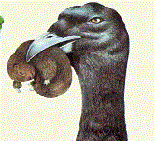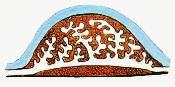 During the winter each rodent is fully insulated and kept warm by the rest of the colony.
As the population of the fortress increases each year, so does the local population of predators. The meaching's principal predator is the polar ravene. It attacks the meachings by digging into their fortress with its front paws.
The meaching's other enemies are mainly birds. The largest is the bootie bird. In winter, it probes for the meachings through the snow and, with its long beak, is able to penetrate deep inside their fortress.
The other notable avian predator of the meaching is the gandimot, which feeds on them in the summer.
Even though the meachings have many predators their birth rate is so high that under normal conditions the colonies thrive. Eventually, after about four or five years of continual growth of the colony, the local food supply of herbs, seeds, mosses and lichens becomes depleted and can no longer support the colony. At this time the meachings migrate, and unprotected by their fortress fall easy prey to their predators. Up to 40 percent of the migratory population may be wiped out before finding a new habitat.
The old fortresses provide homes for several of the tundra's inhabitants. The lesser ptarmigan nests exclusively in old meaching burrows and is sometimes found cohabiting with the meachings themselves, usually in cases where part of the population has already migrated.
Initially a four- or five-chambered nest a meaching fortress grows exponentially, reaching its maximum size after about five years.
Ad blocker interference detected!
Wikia is a free-to-use site that makes money from advertising. We have a modified experience for viewers using ad blockers

Wikia is not accessible if you've made further modifications. Remove the custom ad blocker rule(s) and the page will load as expected.