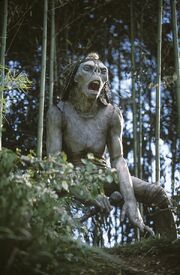 Morlocks (
Homo sapiens morlock
) are a fictional species of primate created by H. G. Wells for his 1895 novel
The Time Machine
. They dwell underground in the English countryside of 802,701 AD in a troglodyte civilization maintaining ancient machines that they may or may not remember how to build. Their only access to the surface world is through a series of well structures that dot the countryside of future England.
Morlocks are humanoid creatures that are descended from humans, but by the 8,028th century have evolved into a completely different species said to be better suited to their subterranean habitat. They are described as "ape-like", with little or no clothing, large eyes, gray fur covering their bodies, and extremely pale gray skin. As a result of living underground they have little or no melanin to protect their skin and so have become extremely sensitive to light, able to stay above ground only for limited amounts of time.
The Morlocks' main source of food is the Eloi (Homo sapiens eloi), another race descended from humans that lives above ground and is far more beautiful in appearance and culture. The Morlocks treat the Eloi as cattle, and the Eloi do not resist being captured for fear that the ones that fight back will be taken first.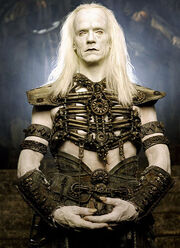 The Morlocks in the movie version of
The Time Machine
(produced in 2002) are eusocial organisms, like ants, which are divided into several breeds. The Uber Morlock is the brain of the colony and possibly its reproductive breed. The Uber Morlock looks less ape-like unlike the other breeds. There is also a hunter breed, a worker breed, and a scout breed. They became extinct when time traveler Alexander Hartigan arrived in 802,701 AD and befriended the beautiful Mara, a teacher of a local tribe of Eloi. After learning of the ecology between the Morlocks and Eloi he used his time machine as a sort of bomb by jamming its gears and causing it to explode. This sent a time shock throughout the Morlocks' caves, accelerating their life span until they disintegrated into dust, thus leaving the Eloi as the dominant species on Earth.