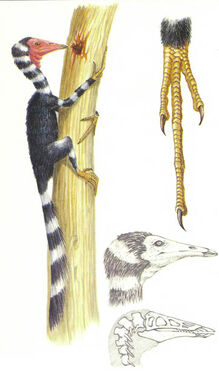 The
Nauger
,
Picusaurus terebradens
, is a partly quadrupedal, woodpecker-like
arbrosaur
from the deciduous and mixed woodlands of North America, in
The New Dinosaurs: An Alternative Evolution
. Predators include the
treepounce
.
In the deciduous forests of North America live a vast variety of different arbrosaurs, each one specifically adapted to a particular way of life. One of the most highly specialized is the nauger, with its wood-boring jaws and its long thin finger. It feeds almost exclusively on the grubs of wood-burrowing beetles that it hunts in the living wood of the trunks and branches. The strong hind legs and the stiff bristles on the tail give it a firm grasp on the tree while it listens for movement beneath the bark and drills into the wood after the larvae.
If there were no non-avian dinosaurs still living in the Cenozoic, it is possible that some of the ecological niches now occupied by tree-living arbrosaurs would have been occupied by birds. It seems entirely probable that a bird could have evolved to fill the niche of the pecking arbrosaur, with a strong bill taking the place of the powerful teeth, and possibly a specialized tongue doing the work of the long finger.