Peter Douglas Ward

Born

N/A

Residence

United States

Nationality

United States

Fields

Paleontology

Alma mater

N/A

Known for

Author of

Future Evolution

(2001) and

Rare Earth: Why Complex Life Is Uncommon in the Universe

Notable awards

"Golden Trilobite Award" from the Paleontological Society
"Where are the intelligent Martians? They never had a chance. Mars maybe had bacteria and then they died out. I think that's the fate of most planets. Mars' fate is the fate of most Earth-like planets. They don't stay Earth-like very long; they die."
―Peter Ward discussing earth-like planets and the occurrence of intelligent life with Neil deGrasse Tyson.
Peter Ward, Ph.D., is a paleontologist and professor of Biology and of Earth and Space Sciences at the University of Washington. He is also the author of several books such as Future Evolution and Rare Earth. Ward specializes in the Cretaceous-Tertiary extinction event and extinctions in general. He is also studying the ecology and speciation patterns of modern cephalopods (Nautilus and Sepia).
Ward is somewhat infamous for his highly cynical and pessimistic views regarding the future of evolution and life beyond earth. He believes, among other things, that the continued presence of humanity will result in a drop in diversity for life on earth and that intelligent life is on average rare in the universe.
Books
Some of his publications include the award-winning On Methuselah's Trail: Living Fossils and the Great Extinctions and The Natural History of Nautilus.
He is also a co-author of the book Rare Earth: Why Complex Life Is Uncommon in the Universe (2000), along with astronomer Donald Brownlee. This book discusses the development of advanced life, saying that the universe is fundamentally hostile to the appearance of intelligent organisms. He had a debate with astrophysicist Neil deGrasse Tyson over the availability of intelligent life in the universe, supporting his belief that it is most likely rare, but not unique to us.
Another book he co-wrote with Donald Brownlee, was The Life and Death of Planet Earth (2005) chronicling the slow death of biological, hydrological, meteorilogical and geological systems on Earth. He predicts an ice age, supercontinent, death of animals and plants, the drying of the oceans, and the incineration of the planet by the Sun.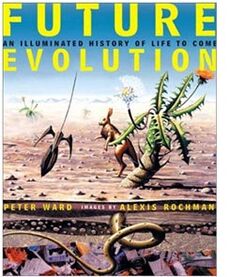 In 2001, his book
Future Evolution
was published. The opinions he puts forward in
Future Evolution
are contrary to those of
Dougal Dixon
. He says that humans may exist for a long time and therefore will have a major effect on the further evolution of life on earth. He points out species that he believes are most likely to survive and are therefore
champion speciators
. Among those he includes are dandelions, raccoons, owls, pigs, rats, snakes, and crows.
Under a Green Sky (2007) is about the major extinctions in history and how they may help us predict the future of our planet. He argues that a majority of the mass extinctions in history have been caused by climate change. Scientists of York and Leeds concur with Peter Ward according to a ScienceDaily release.
References