The
pfrit
,
Aquambulus hirsutus
, is a bizarre, tiny, semiaquatic talpine talpid. It is one of the most unusual water-living mammals, living in the
temperate wetlands
of Europe, Asia and North America.
Its length, excluding its tail, is less than five centimeters, which puts it among the smallest mammals in existence. Although its body is thin, its feet and tail are broad and are covered with water-repellent hairs, which spread its weight over such a large area that it can skate across the water without breaking the surface tension. It lives mainly on the larvae of mosquitoes and midges that are found just under the water surface. It feeds on them by piercing their outer cuticles with its long, hairless snout and draining them of their vital juices while they are still in the water. In this way the pfrit avoids disturbing the water surface, which would both upset the surface tension and frighten away its prey.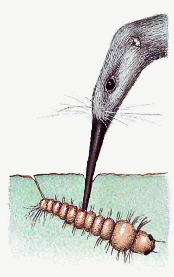 Ad blocker interference detected!
Wikia is a free-to-use site that makes money from advertising. We have a modified experience for viewers using ad blockers

Wikia is not accessible if you've made further modifications. Remove the custom ad blocker rule(s) and the page will load as expected.