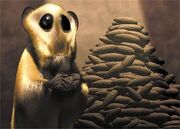 Poggles
are a species of rodent that feature in
The Future is Wild
, inhabiting the plateau located in what was once the Himalayas, 100 million years after the Age of Man. Poggles are incredibly specialised, and feed solely upon the grass seeds collected by the eusocial
silver spiders
they share small caves with. Poggles feast on the harvested seeds until they become large and ungainly, at which point the spiders capture and kill them; poggles are the sole diet of the silver spider. Pregnant poggles in particular are killed and fed to the queen spider to give her hormones to help lay eggs. Only the rodential tendency toward short life-cycles and reproduction for life keep the species from dying off. In the aftermath of increased vulcanism, the silver spiders died off; the poggles, being dependent on the spiders for food, followed them into oblivion.
Plausibility
Edit
Poggles are, in The Future is Wild, shown as the last species of mammal on Earth. The reason for this is simply given to be extrapolation from the current trend of extinction among the mammals; after the initial cull of various animals (e.g., cetaceans, most primates), this trend is shown as applying also to the remaining mammals, until the entire class dies off. This seems dubious, as it ignores various trends in evolution; classes of animals are typically able to find and secure niches that they are able to maintain, avoiding extinction. The only exceptions to these trends, like the extinction of the trilobites or placoderms, are in mass extinctions. Mammals, in particular, retain very many generalist forms (like the rodents), and so it seems doubtful that the mammalian class would disappear entirely, even if they were forced into the margins once again like in the Age of Reptiles.
Other, non-canon explanations for the decline and disappearance of the mammals have the mammals die off as their defining warm-bloodedness losing its advantage in a warming world as lesser lineages regain dominance over the Earth, the birds avoiding a similar fate by their lower metabolic rate. Despite this, mammals still would be able to adapt to these conditions, e.g. through losing hair, and also retreat to remaining cold areas like mountains (which, incidentally, are the poggles' habitat). There is no reason the class would see total extinction as The Future is Wild portrays.