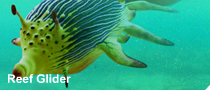 The reef gliders have descended from sea slugs. The adults are 13 ft. (3.9 m) long and shaped like giant teardrops.
They swim, using a series of wings along their flanks, as they patrol the shallow seas hunting for ocean phantoms. They have keen eyesight and can also sense chemical changes in the water.
Because of its body size and behavior, the reef glider has probably evolved to take the place of the whales and seals from modern times. (This is not unlike the gannetwhale, which evolved to fill this niche 95,000,000 years earlier, but is extinct by now.)
The baby reef gliders eat red algae, and are hunted by the ocean phantom. The adults, however, are much larger than the babies, and hunt ocean phantoms.
The reef gliders have developed to genders unlike their hermaphrodite ancestors. The males will swim in an acrobatic fashion while the females survey the males. they will choose the male that is the best acrobatic swimmer. They will swim off and mate in a complex display of acrobatic swim movements. When the male has fertilized the females eggs she will lay them on an algae polyp and swim off letting her young look out for themselves.