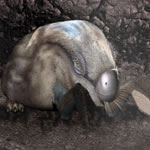 Spinks are, in The Future is Wild series, eusocial quadrupedal descendants of quail that live in the deserts that were once the American prairies, five million years after the Age of Man. Through convergent evolution, spinks have evolved a form and habit similar to that of our own naked mole-rat, Heterocephalus, of Ethiopia; the spink's wings have evolved and reduced into forelimbs, specialised to produce intricate underground burrows. Also similarly to our naked mole rat, the spink feeds upon tubers; they compete with the rattlebacks for this food source that is hard to come by in the frigid plains.
Spinks will annually emerge from their underground colonies to mate at night time, where the males sing and flutter their wings in an attempt to impress the females. While relatively safe underground, any spinks caught on the surface during the daytime afterwards becomes easy prey for the giant deathgleaners.
Spinks are, like several of the creatures in The Future is Wild, implausible. As illustrated by the fossil record and the diversity of forms alive today, birds (and, for that matter, theropods) have been a relatively conservative group as far as body structure is concerned; every known member of the lineage thus far was or is bipedal, even among specialised forms like the penguins. The notion that a "typical" bird of today, like the quail, could turn into something like the spink over the course of a mere five million years is dubious at best.