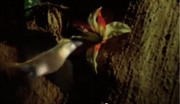 The
spitfire tree
is a unique flowering plant from the
Antarctic Tropical Rainforest
, 100 million AD, in the documentary
The Future is Wild
.
The flowers of this tree are always of interest to that of spitfire birds. The male and female of this type of tree produce different chemicals. Both are harvested by the spitfire bird and used as acidic weapons. The spitfire tree also benefits from the spitfire bird's plundering of its resources. As it hovers between the male and female trees, dipping its beak into their flowers, the bird aids pollination.
At times, groups of spitfire beetles will be seen clinging to the sides of spitfire trees and disguise themselves to look like the trees' flowers in order to attack a spitfire bird.
Ad blocker interference detected!
Wikia is a free-to-use site that makes money from advertising. We have a modified experience for viewers using ad blockers

Wikia is not accessible if you've made further modifications. Remove the custom ad blocker rule(s) and the page will load as expected.