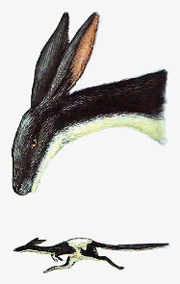 The
strick
,
Cursomys longipes
, is a large, bipedal caviid from the
South American
tropical grasslands
. It is the most generalized running rodent in the South American grasslands. It looks very much like the grazing
kangaroos
that once existed in
Australia
(now developed into such creatures as the
giantala
).
They graze among the long grasses in tightly knit groups that are large enough to ensure that there are always at least two or three individuals with their heads up, looking around for danger while the rest have their senses buried in the grass. A similar caviid coexisting with the strick is the wakka.
Because stricks and wakkas occupy similar ecological niches, they have, in the course of evolution, developed along similar lines from completely different ancestors.
Ad blocker interference detected!
Wikia is a free-to-use site that makes money from advertising. We have a modified experience for viewers using ad blockers

Wikia is not accessible if you've made further modifications. Remove the custom ad blocker rule(s) and the page will load as expected.