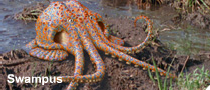 Descendants of the octopus, the swampus live in the brackish Bengal swamp, formed when Africa merged with Australasia and blocked the Bay of Bengal, in 100 million C.E. They have a deadly venomous bite that can even kill a baby toraton. Unfortunately for the swampus, adult toratons have no predators and are not affected by their venom. Four of the swampus' arms have changed into runners, which are used in a manner similar to the runners on a sleigh as the swampus drags itself across land using its other four arms, and its mantle cavity can also be used as a lung, allowing it to stay out of water for long periods of time. They are also proficient jumpers, as demonstrated when one leapt to the neck of a toraton baby to kill it.
One of the few creatures capable of killing a swampus is the lurkfish, which uses the electric field surrounding its body to stun the swampus.
The swampus is the first cephalopod to venture out onto land. Infant swampuses are nurtured in a leafy bromeliad-like plant named the nursey plant filled with fresh water, as well as a toxin that baby swampus feed on to use as the basis for their toxic bite when they become adults. The plant itself has developed a mutualistic relationship with the swampuses, since the plant times its flowering period to happen during the same period as the swampus breeding season. As several related swampus females will work together to care for their young, the plant has several guardians which will attack anything trying to damage the plant, which would kill the young and prevent the plant from reproducing as successfully. Female swampus are willing to put themselves at risk for their young by distracting a lurkfish so that the young can drop from a branch, where they are placed so that they're out of the way of the toratons' feet, into the Bengal swamp.