Swimming Monkey
Comments

3
508pages on
this wiki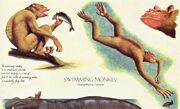 Less well adapted but nevertheless efficient in the water is the swimming monkey, 
Natopithecus ranapes
. Descended from the swamp monkey, 
Allenopithecus nigraviridis
, of the Age of Man, this creature has developed a frog-like body with webbed hind feet, long, clawed fingers for catching fish and a ridge down its back to give it stability in the water. Like the mud-gulper, its sensory organs are placed high up on its head. It lives in riverside trees, from which it dives to catch the fish that are its staple diet.