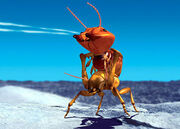 Terabytes
are termite-like desert insects. They are the descendants of modern termites.
Like termites, terabytes are organized into castes but are even more specialized than any present-day insects. Like their termite ancestors, Terabytes are vegetarians. While the algae in the mound is growing, they feed on those found on the Garden worms around the pools. Terabytes harvest algae in greenhouses and they get them from garden worms.
The terabytes cultivate gardenworm algae in their mounds, using the water-carriers to water it, and getting it sunlight from transparent panes in the top made of terabyte saliva. Gardenworms are either found vulnerable, lying around near oases, or inaccessibly swimming around in the underground caves. The transporter terabytes carry gum-spitters to the attack point and the gum-spitters freeze the worms in their tracks. Then other transporter terabytes apprehend the worms to grab some algae to take back to their enormous nests. Underneath the nests are a series of caverns that disperse heat from the nests. This is so the terabytes don't get hot in the blistering desert, the largest the Earth has ever seen.
Terabyte Castes
Name
Position
Transporters
The transporters carry around other, often legless members of the species to a specific area.
Gum-Spitters
Possess glands that allow for the production of sticky gum which they use for building and trapping purposes.
Rock-burrowers
Can produce a 

chemical to dissolve the hard limestone under the desert to get to the underground pools below (the chemical in question is concentrated hydrochloric acid).

Biters
With large jaws, biters, as their name implies, bite and remove the rock that was worn down by the Rock-burrowers chemical weathering to get into the pools bellow the surface.
Water-carrier
As the name implies, it can suck up and store water within its body, before a transporter takes it to the colonies algae supply. The water-carrier would proceed to water the algae to provide nutrients.
King
A caste that is chosen by the Queen to carry and transport her.
Nurses
A position whose occupants main job is to care for the eggs.
Builders
Builds and constructs the large mounds in which the terabyte live, it often also assists the Gum-spitters in producing moulds.
Warriors
Able to produce chemicals similar to the Rock-burrowers, but uses them for more defensive purposes.
Queen
Positioned at the centre of the colony, its main job is to continually produce eggs to populate.