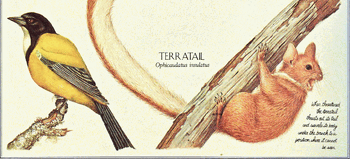 The
terratail
,
Ophiocaudatus insulatus
, is a timid,
squirrel
-like murine murid and one of the few mammals living on the
Pacaus island chain
.
The Pacauan whistlers' wariness of snakes is exploited by the terratail. The markings on its tail mimic to a remarkable degree the markings on the head of the Pacauan bird snake. When threatened by a predatory bird, or indeed by any other predatory creature, the terratail throws its tail into the typical snake-threat posture and utters a realistic hiss. It makes its escape rapidly into the undergrowth while its enemy is still recovering from the shock.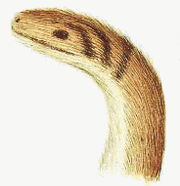 Ad blocker interference detected!
Wikia is a free-to-use site that makes money from advertising. We have a modified experience for viewers using ad blockers

Wikia is not accessible if you've made further modifications. Remove the custom ad blocker rule(s) and the page will load as expected.