The New Dinosaurs: An Alternative Evolution
(1988) is a book written by geologist and paleontologist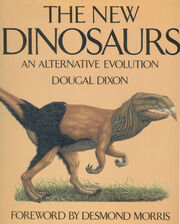 Dougal Dixon
. While Dixon's earlier book
After Man
is set fifty million years in the future,
The New Dinosaurs
speculates on how the dinosaurs would have evolved over the last 65 million years had the Cretaceous-Palaeogene extinction event not taken place.
The book contains a few suggestions inconsistent with current scientific knowledge. Pterosaurs and feathered dinosaurs replace birds in dominance, even though fossil evidence proves both groups (apart from maniraptora) were declining rapidly before the mass extinction took place. Dinosaurs were also filling the roles that mammals and squamates occupied during the dinosaur age, and most of the dinosaurs were covered with hair. Meanwhile, plesiosaurs seem to replace mosasaurs, despite the fact the latter were replacing the former in the late Cretaceous. All of these "mistakes" in the book are more likely just concurrent with the evidence and theories at the time of publishing, or perhaps the alternative evolution in the book began far earlier than assumed. However, some aspects are still update to date.

A detailed critic on the Speculative Evolution Forum can be found here.
An more advanced version of this same concept (called The Speculative Dinosaur Project) is represented by a group of paleoartists in recent years.
Denizens of The New Dinosaurs: An Alternative Evolution
Ammonites
Dinosaurs
Mammals
Pterosaurs
Plesiosaurs
External links
Ad blocker interference detected!
Wikia is a free-to-use site that makes money from advertising. We have a modified experience for viewers using ad blockers

Wikia is not accessible if you've made further modifications. Remove the custom ad blocker rule(s) and the page will load as expected.