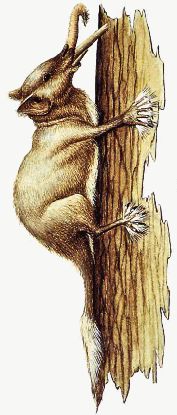 The
tree drummer
,
Proboscisuncus
spp., is an arboreal
white-toothed shrew
from the
temperate woodlands
of Asia.
Wood-boring is the specialty of the tree drummer genus. These animals, basically shrew-like in form, subsist on a diet of grubs and adult insects, which they gouge out from crevices in the bark. They have masses of sensory bristles on their feet and very large ears, which help them to detect the movement of grubs burrowing in the wood. When a tree drummer finds a grub it drives its chisel-like teeth into the bark to make a hole big enough to enable it to remove the grub with its trunk-like proboscis. Sometimes the grub becomes skewered on its chisel teeth and needs to be carefully plucked off before being eaten.
Ad blocker interference detected!
Wikia is a free-to-use site that makes money from advertising. We have a modified experience for viewers using ad blockers

Wikia is not accessible if you've made further modifications. Remove the custom ad blocker rule(s) and the page will load as expected.