Systematics:
bird (Aves), Charadriiformes (waterfowl group), Scolopacidae (shorebirds group, who get their food from the mud). 
Cousin of the 21st century: Tringa ochropus, the Green Sandpiper. Size: 40 cm high. 
Etymology: Tringapterus is a contraction of "Tringa" and "wingless" means "Green Sandpiper without wings"; "Daftpunki" is a tribute to Daft punk, a French electronic music duo whose artists share with our bird the same light and the same helmet future singing that unites these species. 
Distribution: Large Eurafrican mud flats, as well as coastal lake.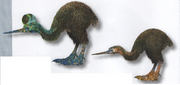 Ecology and Reproduction:
Chum herds, Green Sandpiper future (such
Tringapterus
) will never move without the
neo-ostrich
. Well tolerated by Neo-ostriches (
Struthiops philipkdicki
), these smaller, dark birds move in jerks, always at the center of the herd. The
Tringapterus
live in groups and developed a complex song, strange music that allows them to communicate with their associates. Not content to benefit from their protection, "Green Sandpipers the future" go elsewhere to lay eggs in the nests of neo-ostriches.
Tringapterus elegans
and
Tringapterus daftpunki
are two species of the Euro-African coast. One, Northern, can hybridize with each other, more southern, but the young are unfertile. Sexual dimorphism is marked: male, very dominant, feature of ridges vivid and varied colors. Taking advantage of the low tide, these little birds partegent with their bodyguard, the resources the coast: the
Struthiops philipkdicki
raking seaweed illuminated canvases that
Tringapterus
probe the mud in search of neo-shrimp, worms and other small prey including they feed. At the coast however, both these birds will have predators, like
Neocidaris schwarzenheggeri
.
Ad blocker interference detected!
Wikia is a free-to-use site that makes money from advertising. We have a modified experience for viewers using ad blockers

Wikia is not accessible if you've made further modifications. Remove the custom ad blocker rule(s) and the page will load as expected.